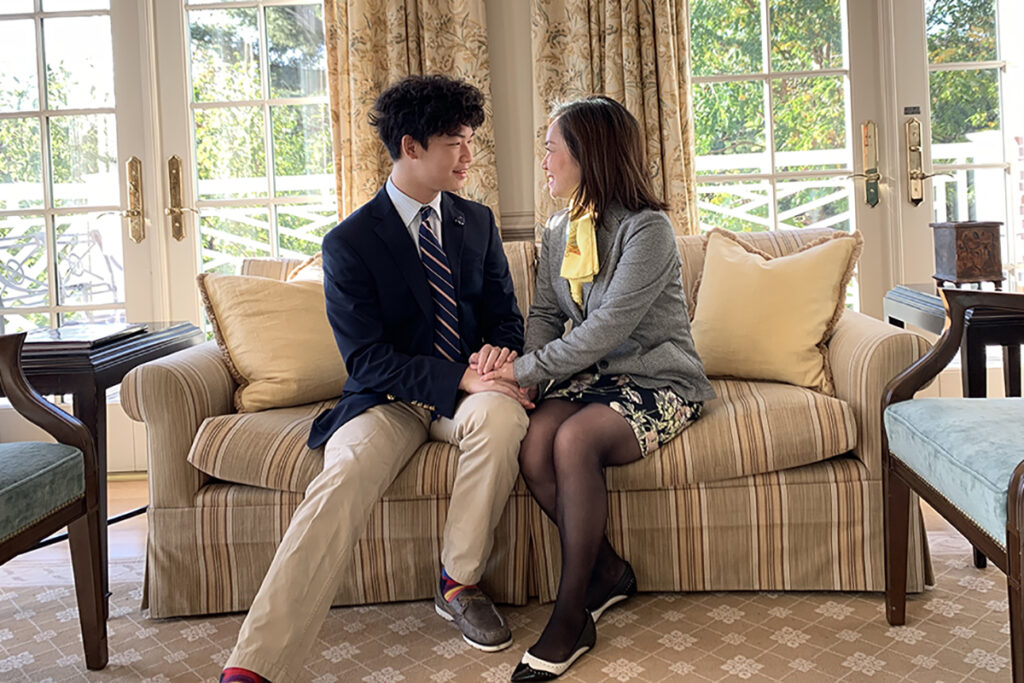 Meet Our Donors - Gloria Gao P'24
Gloria Gao first visited Episcopal on a trip to D.C. from Shanghai in 2018. She remembers Jonathan Lee '01, then an associate director of admissions, telling her about a Chinese student who underwent emergency surgery one night during the school year. The student woke up to find her advisor sleeping in the chair in her hospital room. The advisor had not left her side. Gao knew immediately that Episcopal was the place for her son. "The most important thing we want is for our children to be taken good care of," she says, and she knew Episcopal would do just that.
When the Covid-19 pandemic hit the United States in March 2020, Gao was worried her son Joey Chen '24, an incoming freshman, would not be able to come to campus in the fall due to travel restrictions from China to US.  But Joey was not deterred. He flew from Shanghai to Dubai, where he quarantined for two weeks with a chaperoned group of Chinese students. He then quarantined for two more weeks upon arrival in D.C. with support from EHS faculty.  Once he arrived on campus, Gao had full confidence in the School to keep him safe while she and her husband were on the other side of the world.
A member of the Parent Roll Call Committee, Gao also has become an unofficial leader of Chinese and Korean parents interested in American boarding schools. She is very active within their WeChat group, lending an ear or doling out advice to fellow parents — whether they have children at Episcopal yet or not. Gao and Joey also host a popular Chinese podcast on boarding school life in the United States, with 70+ episodes, 800+ subscribers, and roughly 32,000 clicks.  They share the same content through WeChat which attracts another 3,000+ subscribers and 52,000+ page views. In addition to her other volunteer roles, she stepped in as a Chinese translator when Episcopal's advancement office needed to send out Covid-19 communications.
As for Joey? Since arriving on campus approximately 7,500 miles from home in the middle of a pandemic, he made sure to tell his parents: "We made the right decision to apply to EHS."