Capital & Endowment Gifts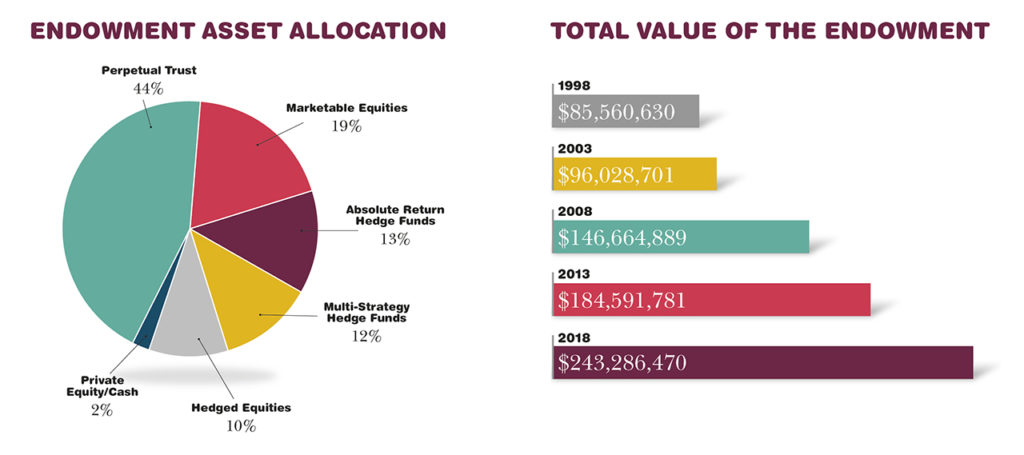 Support of the EHS endowment helps ensure that Episcopal continues to attract a gifted faculty and a talented and diverse student body. Endowment funds also ensure that the campus remains an ideal setting for learning and incorporates state-of-the-art technology in all fields.
Income from the endowment funds faculty masterships, salary enhancements, and faculty educational programs; provides financial assistance to deserving students; enhances academic programs; and covers ongoing campus maintenance costs. Above all, a growing endowment helps moderate tuition increases.
Capital and Endowment Gifts and Commitments
Mr. and Mrs. Lee S. Ainslie III '82
Mr. and Mrs. John Edward Akridge III
Mrs. Alicia R. Alford and Mr. Michael K. Alford
Mr. and Mrs. John R. Belk
Mr. and Mrs. Richard M. Berkeley '70
Mr. Alexander Hamilton Bocock '86 and Dr. Amy Sullivan
Mr.* and Mrs. Benjamin R. Cadwalader '40
Mr. Jesse Wadsworth Couch '40 *
Dickson Foundation, Inc.
Mr. and Mrs. H. Winston Holt IV '82
Mr. and Mrs. Robert L. Huffines
Mr. Brian E. Knutson '96 and Mrs. Sarah Akridge Knutson '96
Mr. and Mrs. N. Thompson Long '77
Dr. and Mrs. Walker Lyerly IV '80
Mr. James DuBois McNeely '50 *
Mr. and Mrs. George B. Moore
Mrs. Elizabeth Ward Nation '09 and Mr. Charles O. Nation
Mr. and Mrs. Bailey W. Patrick '79
Mr. Robert J. Shea, Jr.
Mr. William Hunter Sperry '35* and Mrs. Maria J. Sperry*
Mr. and Mrs. John L. Townsend III '73
Mrs. Kathryn G. Tyree and Mr. William B. Tyree
Mr. and Mrs. Leonidas C. Vaughan IV '93
Mr. and Mrs. Louis S. Waldrop, Sr. '42
Mr. Edward B. Walker '85
Mr. and Mrs. John M. Walker
Mr. and Mrs. John Hardin Ward IV
Mr. Donaldson G. Williams '80
Mr. and Mrs. R. Halsey Wise '83
Mr. and Mrs. Joseph M. Wood II '45 *
Faculty Housing
The Brown Foundation, Inc.
Mr. and Mrs. Ransom C. Lummis '80
Mr. Christopher E. Morris and Ms. Lynn Alexander
Student Center in Stewart Gym
Mr. and Mrs. John C. Peeples
Technology
Mr. and Mrs. Gordon N. Farquhar '42 *
Mr. and Mrs. James Johnson
Mr. and Mrs. Tucker S. Johnson
* Deceased