Head of School's Message
The 2017-18 school year was both exciting and very productive here at Episcopal High School. As a precursor to our strategic planning process, the Board of Trustees worked closely with the faculty and staff to examine those key elements and values that have played an important role in our close-knit community for many years. We reaffirmed our fundamental mission to develop in each of our students the intellectual and moral courage necessary for outstanding academic achievement and for making a true difference with one's life. An especially helpful aspect of this process was to clarify just what we mean when we talk about intellectual and moral courage, which we have visualized in our new Portrait of a Graduate statement. We have also articulated those crucial practices that allow us to bring our mission to life in our Core Beliefs statement. We released both statements publicly this fall and have appreciated the positive feedback we have received.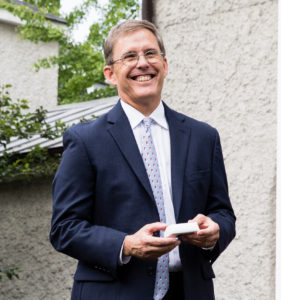 Using our mission, Portrait of a Graduate, and Core Beliefs as our guides, the Board then helped us identify the most important strategic initiatives to pursue that will help us develop in our students these critical components of intellectual and moral courage more effectively than any other school. This new Strategic Plan will take our approach to academic excellence and the development of ethical, honorable leadership to new heights through innovative uses of the "classroom" of Washington, D.C. We also seek to maximize the impact of our 100 percent boarding model, where transformational relationships and flexible approaches to time open the door to uniquely powerful educational opportunities. As this year progresses, we will be communicating further about the exciting initiatives in our new plan.
It was clear throughout this past year, however, that the myriad approaches to developing intellectual and moral courage here on campus are only made possible by the remarkable support and generosity of our entire school family. These lessons about being one's best self, standing for the hard right instead of the easy wrong, approaching complex issues with a curious and critical mind, appreciating and bridging our differences, and focusing on the needs of others are best developed through connecting our students to a powerful array of learning experiences.
Through the use of our various resources supported by endowed funds, Roll Call contributions, and other special gifts, we were able to connect our students to amazing learning moments in 2017-18. Former NBA player Chris Herren captivated our students' attention with his especially powerful and emotional messages about the dangers of drug and alcohol abuse and the role we all play in helping each other and helping ourselves make good choices.
Episcopal students traveled to Wilmington, Delaware, to help with a special Habitat for Humanity 30-hour house build project, as well as to Houston, Texas, to support Hurricane Harvey relief. On both trips, generous Episcopal alumni stepped up to join in the volunteer efforts and connect with our students, modeling the commitment to service that we seek to instill in our girls and boys.
The new Lee Sanford Ainslie, Jr. '56 Fellows Mastership Program enabled faculty to dive deeply into research and travel to develop important new approaches for the learning process on campus. This past year, Mimi Schwanda and Patrick Thompson worked with other schools and researchers at Johns Hopkins to create a measurement rubric to help us judge the progress we are making toward our students' tangible development of the moral courage components from our Portrait of a Graduate. Mike Reynolds and Caroline English also used these mastership funds to expand our use of innovative technologies in bringing history to life in the classroom in powerful ways.
These are just a few examples of the innumerable ways in which our community's generosity has made a true difference in the lives of our students and in our ability to fulfill our mission. Whether in offering our students transformational learning opportunities or exciting our faculty to push our notions of teaching excellence to new heights, Episcopal could never be the outstanding school that it is without the incredible support we receive from all in our school family. I remain grateful for all the wonderful things that you do for Episcopal and look forward to the important enhancements we can create together in the years to come. Thanks again. Go High School!

Charles M. Stillwell
Head of School