Departing Trustee Remarks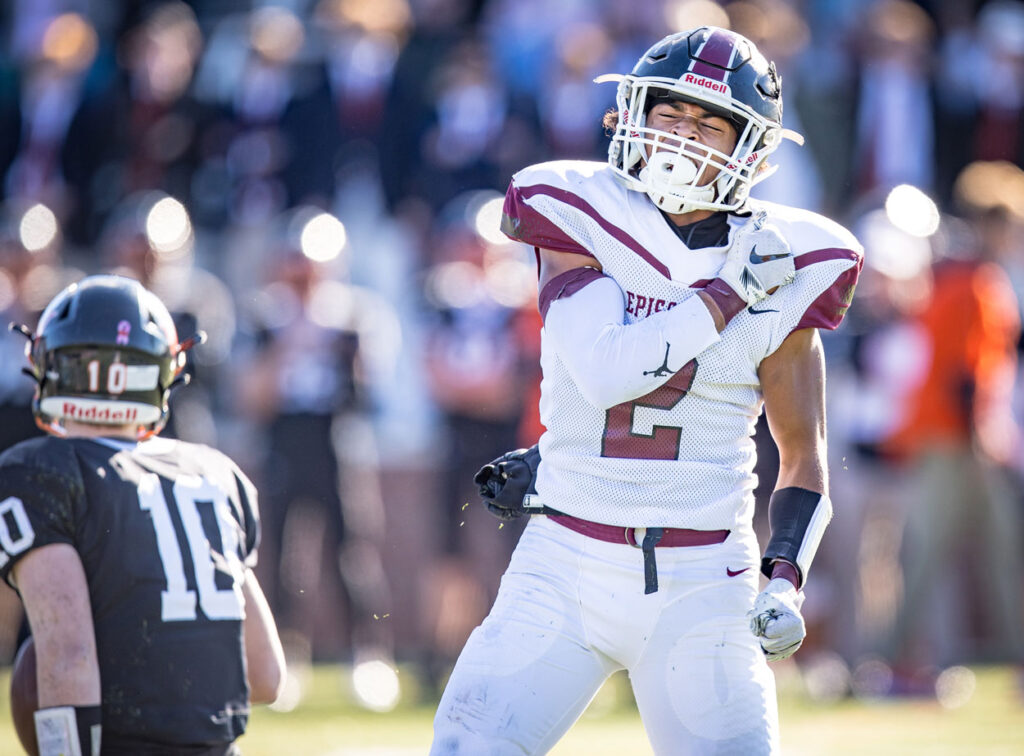 Departing Trustee Remarks
The following Trustees stepped down from Episcopal's Board after the 2021-22 school year. Episcopal thanks them for the many combined years of dedicated service and leadership.
Lee S. Ainslie III '82 P'14 '17
As my second tenure on Episcopal's Board of Trustees comes to a close, I am extremely grateful for the dedication and commitment of my fellow trustees. As an institution, we are very fortunate to have such an impressive group devote so much energy and time to our School. When I consider the highlights of what we achieved, our Head of School search in 2015, the construction of two new dormitories and the deButts Health & Wellness Center, and the Board's Resolution that reflected the efforts of the School History Working Group, which considered challenging aspects of the School's early history, all come to mind.
I requested to rejoin the Board in 2015 to have the opportunity to serve on the Search Committee for Rob Hershey's successor. One of Episcopal's greatest strengths over time has been the consistent leadership of very talented and dedicated Heads — admittedly I'm a bit biased! Flick Hoxton, my father [Sandy Ainslie '56], and Rob Hershey served EHS for a total of over fifty years. Such stability is very rare and incredibly valuable to an institution like Episcopal that prides itself on a tradition of consistent excellence.
One of the primary takeaways of the 2018 Strategic Plan was the need to improve the ratio of students to on-dorm faculty members. As one of the few all-boarding schools in the nation, the residential life program is a critical aspect of the Episcopal experience, and enabling a greater faculty presence will foster deeper engagement and more meaningful teacher-student relationships.
The decision to move forward with the construction of two new dormitories and the deButts Health & Wellness Center at the same time was challenging as we had not, and still have not, raised all of the capital necessary to construct and maintain these new facilities. However, the Board chose to move forward last spring to secure financing at attractive rates, lock in costs before potential inflationary pressures, and minimize disruption to campus life. While we still have wood to chop to raise all the capital to fund these important projects, I believe the Board's bold decision to move forward on all three construction projects a year ago has proven to be prudent.
Last year the Board formed the School History Working Group to consider the role enslaved people played in our School's pre-Civil War history and to advise the Board on how we should reflect upon and respond to this history as an institution. After robust discussions and thoughtful deliberation, the Board recently unanimously approved a resolution that acknowledges these sad aspects of our history and commits Episcopal to commemorating the enslaved people that made significant contributions to the School's development in its early years.
Serving on the Board was a wonderful way to be further enmeshed and engaged in the EHS community. Every time I stepped on campus, I saw old classmates who are now parents, faculty members whom I greatly respect, and impressive young men and women who were at the beginning of their Episcopal journey.  Serving as the chair of a board comprised of individuals for whom I have such deep respect and who are so passionate about and dedicated to our beloved institution has been a great honor.
Dylan C. Glenn '87
I remember first visiting Episcopal on a cold day in February of 1985. I'm from Columbus, Georgia in the Deep South and neglected to bring a much needed winter coat. An Old Boy and lifetime friend loaned me his coat without hesitation. It's a perfect vignette for what Episcopal has meant to me.
It's difficult to overstate the impact EHS has had on my life. Al Phillips, Ernie Helfenstein, Kay Roper, Lu Geer, Bill Hannum — weren't simply incredible teachers. They doubled as friends, mentors, coaches and extended family. They were the anchors of the Episcopal community, which I think is our greatest asset. We are a closely entwined, richly diverse and evolving community that remains rooted essentially in honor and respect. And, while The High School has changed a great deal in her nearly 200 years of existence, those abiding virtues continue to be bedrock. Episcopal is such a special place.
It is also why it has been such a distinct privilege to serve on the Board of Trustees. To have the opportunity to play a big part in the stewardship of such a wonderful institution that we all love so very much is beyond rewarding. I so appreciate the deep relationships developed with my fellow Trustees. And, I am, especially, grateful to have had the chance to serve under two incredibly capable Board Chairmen in John Townsend and Lee Ainslie. We have been uniquely blessed with great leadership at the Board level. We have been equally fortunate to have had amazingly talented Heads, faculty and staff. Charley Stillwell is the latest in a long line of smart, thoughtful, effective leaders who help ensure Episcopal's exceedingly bright future.
I am humbled to have served on the board of trustees at EHS. This experience redefined my view of Episcopal and the potential of the school to have COURAGE in all that we do.  Under the greatest of adversity, the school remained steadfast in our mission and the BOT was always there to step up to whatever challenge we faced.
Laura Lewis O'Connor P'18
"The ultimate measure of a man is not where he stands in moments of comfort and convenience, but where he stands at times of challenge and controversy."
–Reverend Dr. Martin Luther King, Jr.
Dr. King's ultimate test applies not only to individuals but also to trustees of organizations. Over the past six years, the Episcopal board experienced many moments of comfort and ease when we celebrated tremendous accomplishments in support of our mission.
On the other hand, we also confronted certain challenges and controversies of our era. Such extraordinary times demand extraordinary leadership. Led by Lee Ainslie '82 and Charley Stillwell, our board rose to meet the rigorous tests of our time with honor, modeling the values of intellectual and moral courage that define Episcopal. We tackled thorny issues and remained united in our collective response. We conducted respectful, robust debates because everyone on the board maintains a strong commitment to a vibrant Episcopal. I am proud to have participated in such important conversations and worked with such fine individuals.
Most of all, I am grateful for the enduring friendships formed with my fellow trustees and the exceptional Episcopal faculty and administrators. One of the core beliefs of Episcopal is that we are all part of something greater than ourselves with the capacity and responsibility to be a force for good in the lives of others. I believe Episcopal has been and will continue to be such a force for good. I thank all of you for the privilege of being part of such an honorable endeavor.
M. Rodney Robinson '86
This is my second stint serving on Episcopal's Board of Trustees, and the perspective I have gained at 54 is even more rewarding than when I was 25 years old in my first term on the board.
I recall that in my first tenure, under the leadership of Sandy Ainslie '56, George Logan, and Menard Doswell, we focused on the selection of Rob Hershey as Head of School and a redesigned campus in our Strategic Plan. Now, under Charley Stillwell, Lee Ainslie, and Bailey Patrick, we faced difficult strategic issues that led to a firm focus on the profile of the EHS graduate, expansion of the school's facilities footprint, and the recognition of The High School's history with people of color.
My time on the board has helped me have a better picture of how to execute a vision and make it a reality for the benefit of the EHS community. The clear focus of the board has served as a north star of how we can help the students, faculty, and alumni be their best and transcend to new heights.  Through this work, I am proud that we have created a platform for future growth.
I will always be grateful to the administration and Board of Trustees family for their transparency, honesty, and respect for each other. Only through these true conversations were we able to help define, support, and communicate the future north star for the school.
On behalf of the great class of 1986, I will always be proud of Episcopal High School and look forward to seeing it continue to thrive!