Departing Trustee Remarks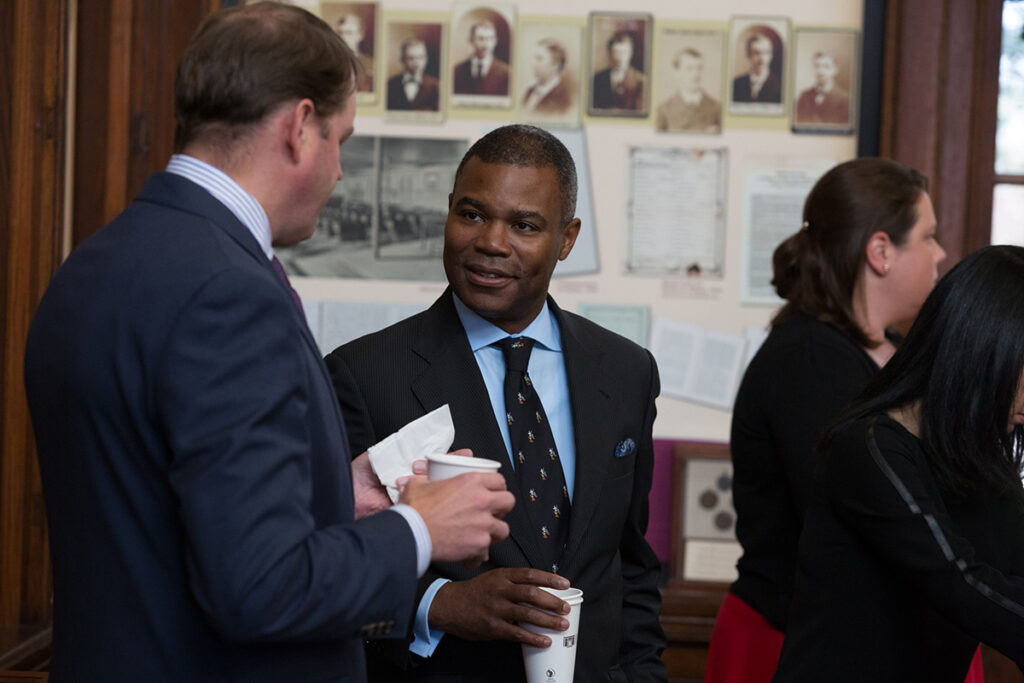 Departing Trustee Remarks
The below Trustees stepped down from Episcopal's Board after the 2020-21 school year. Read below for their departing statements. Episcopal thanks them for the many combined years of dedicated service and leadership.
Christopher Giblin '86 P'16 '19 '22
From the young boy who watched his older brother head off to a Virginia boarding school in 1975 to a middle-aged man who has been blessed to be a student, faculty member, parent, and member of the Board of Trustees, Episcopal has been a major part of my life for 46 years.
Outside of my family, no place or person has had a bigger impact on my life than EHS.  I learned honor, humility, resilience, and compassion from men like Allen Phillips, Tony Shaver, Joe Robinson, and Joe Shelor.  I also made lifelong friends whose boarding school bond is as strong today as it was over 30 years ago. 
 The greatest joy of all, though, has been for Nancy and me to watch Christopher '16, Mary Ives '19, and Boots '22 mature and thrive as students at EHS. 
 As I finish my six years on the Board, I do so with a better understanding of the awesome responsibility we have and the challenges we face as we quickly approach our bicentennial in 18 years. I have no doubt that our leadership will meet these challenges and that EHS will enter its third century as healthy and as strong as ever. Fortiter, Fideliter, Feliciter! 
Gray MacNair King '96
I would like to thank Episcopal and its Board for an incredible six years of service as a Trustee. I have learned more than I ever thought I would from the Trustees, faculty and many of the students who were willing to share their thoughts with us. The people that make up the Board and this community are driven by a love of The High School and a desire to instill the School and students with nothing but the best tools to navigate the world with intellectual and moral courage.
 I reflect on this past year as one of the most challenging in the School's history. We have not been perfect, but the quality of thought from this group of leaders has moved the School forward with curiosity, empathy and vision. It has been an honor to work with them, and I thank them all for what they have taught me.
 I look forward to returning soon to cheer on our teams, and I am thrilled to pass the torch to a new generation of Board members. I will be rooting for them all!
 Go High School!
Dele Liu P'18
When I was first invited to join the Board of Trustees, I hesitated — wondering if it would be worth my while to make three round trips a year between Beijing and Alexandria just to attend the Board meetings and activities on campus. Five years later today, I count these trips and meetings as the most extraordinary and rewarding experience I could have had!
 Serving on the EHS Board of Trustees has been both honorable and humbling. I have never seen so many world-class experts before in a single room — the Board is literally a group of world-class educators, investors, architects, technologists, journalists, entrepreneurs, accountants and lawyers, et cetera, each bringing decades of professional and leadership wisdom to the table.
 I once asked my daughter, Judy '18, if she would cite the most important thing Episcopal does well. She said the EHS faculty practice what they teach. Whether it is community, moral and intellectual courage, or inclusiveness and loving care, these values are embodied by the teachers in their 24/7 life. 
 I'd like to extend my whole-hearted thanks to EHS for giving me the opportunity to serve the school. Though my term expires this year, I will continue to be a proud member of the EHS community and a proud father of an EHS graduate!
Robert E. Mason IV '77 P'15
As a young man I listened to family and friends talk about the opportunities that Episcopal High School presented to a young person. The importance of Honor, respect, responsibility, dedication, academic rigor, athletic competition, teamwork, living in community with others of different backgrounds and perspectives all came through. Thinking back, these experiences, principles, and friendships made, still guide my life. As a student ('77), parent (Ann '15), and trustee, I am forever grateful to the Episcopal community past and present for the difference you make in the lives of others.
It has been an honor and a pleasure to serve on the Episcopal Board of Trustees the last six years. We have worked with a talented and outstanding group of staff, faculty, and two excellent Heads of School in Rob Hershey and Charley Stillwell, successfully shepherding the Head of School transition, as well. We developed a strategic plan with areas of focus that included support for The McCain-Ravenel Center for Intellectual and Moral Courage, an inclusive community, affordability, enhanced quality of life for students, faculty, and staff, and the Campus Master Plan.
In November 2018 we commemorated Fifty Years of Integration with a program of distinguished alumni and guests. It was a weekend of celebration, reflection and introspection. We have built new faculty homes and a new track. The challenges of the past year and a half have been top of mind for us. We have analyzed, debated and taken on these challenges with grace and humility. We have tried to lead by example. I am proud that in spite of economic challenges, the Episcopal community is stepping up and we are able to move forward with the construction of The deButts Health & Wellness Center along with two new dormitories, all part of the Campus Master Plan. We still need others from our community to step up and help with these projects.
It is gratifying to see the Episcopal community embrace and take on the challenges of a changing world as it has with each generation. That is leadership and there is work to be done. Know this: Episcopal is in good hands and as Huey Lewis said, "The future's so bright ya gotta wear shades!" Gaudeamus.
William S. Peebles IV '73
Shortly after graduating in 1973, I wrote Mr. Hoxton and Mr. Ainslie and several of my teachers to thank them for all they had done for me during my time at EHS. I also told them that because of my experiences at Episcopal, I thought I wanted to teach. This is my 39th year as a teacher and I have felt so privileged to be in this profession.
 I could never adequately thank my teachers and mentors for what they made possible for me at EHS and for the inspiration they gave me to teach.
 Similarly, I am so grateful for the opportunity to serve as a trustee these last six years. I have learned so much about true stewardship from my fellow Trustees and from Rob Hershey and Charley Stillwell and their ever talented and dedicated teammates. And I am so proud of how our school has sustained with great integrity and wisdom our timeless traditions of honor and excellence alongside measured and necessary change and growth.
Burwell Schorr P'19
It has been a privilege and my pleasure to serve on the Board of EHS.  The incredible talent, dedication and generosity of this special group has been an inspiration to me.  I also am grateful for the opportunity to have worked with the amazing leadership that we have in Charley, Lee, Christina and all of the faculty and administrators whose vision and care light the way for the future of the Episcopal.  I have no doubt that the future is bright and that so many fortunate young people will continue to enjoy the many benefits this wonderful school has to offer. 
With thanks and gratitude for a remarkable three years.