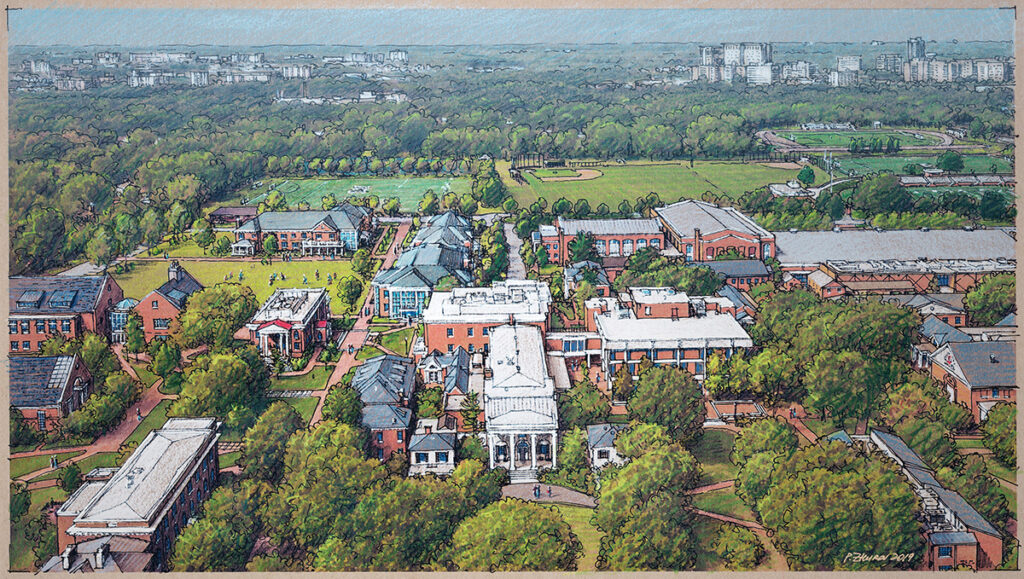 BREAKING GROUND, MAKING HISTORY
The School broke ground on a new health and wellness center and two new dormitories in June 2021, and all three are scheduled to open in the 2022-23 school year. To date, a remarkable 75% of construction costs has been raised, and trustees chose to accelerate the timeline of these three capital projects to take advantage of low interest rates and significant efficiencies achieved by constructing all three buildings at once, as well as to address urgent needs.
The deButts Health & Wellness Center
Simone and Tench Coxe '76 are the lead donors for the new center, and Tench requested that the building be named in honor of his EHS roommate, William "Boota" deButts '76, his wife, Shelley, and his father, Hunter deButts '47. On June 11, alumni, friends, family, and School leaders gathered for a ceremonial groundbreaking.
Designed with just over 17,000 square feet of space, the new center will be double the nearly 100-year-old McAllister Health Center's size. It will feature comprehensive treatment and clinical work areas, spaces for health and wellness programming, separate waiting areas for sick and well patients, four exam rooms, and dedicated space for the School's Counseling Center.
New Dormitories
By building two new 36-bed dormitories and making adjustments to de-densify existing dormitories without increasing enrollment, we are strengthening the powerful experience of our 100% boarding community. A lower student-to-faculty ratio on dorm and additional space for our students will provide the ideal environment to deliver our enhanced residential life curriculum and renewed focus on wellness. Each dormitory will feature three residences, adding invaluable faculty housing and moving the School closer to the goal of 100% of faculty living on campus. Ensuring that our talented faculty and staff are available wherever and whenever learning opportunities present themselves is critical to our success.